The controversy surrounding my Research Director, David Kopel, has grown to the point where I feel I must comment officially.
Before I get to the allegations, let me say that I have known Dave for over two decades. I believe him to be a good man. Like all of us, he is not perfect. And like all of us, he has certainly made some decisions that, with the fullness of time, he might come to regret. Nevertheless, I am proud to call him a good friend and proud to stand with him during this time.
As you are aware, our Second Amendment rights are under assault not only on the national level but also here in Colorado. Dave Kopel is arguably the nation's leading scholar on the right to keep and bear arms and he has been in high demand. He has never been more productive.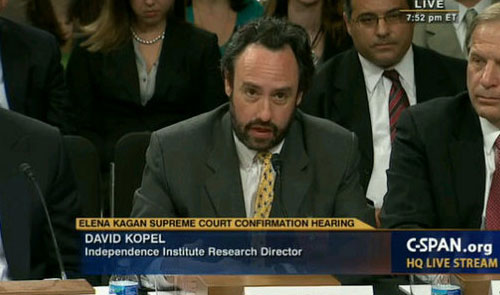 He has been all over the media setting the record straight and putting out the emotional fires of the anti-gun panic. You've seen him on CNN, FOX, BBC, PBS's News Hour, MSNBC and more. You've read his work in publications ranging from the Denver Post to the New York Times to the Wall Street Journal.
More importantly, he has been hip-deep in the fight in the Colorado Legislature, meeting with lawmakers, testifying, and rewriting legislation. Senator Greg Brophy thanked him from the Senate floor for rewording part of the hideous magazine ban bill so at least it wouldn't outlaw almost every shotgun in the state. On Friday, he spent the entire day and most of the night in the Senate Chambers advising lawmakers during their marathon debate.
So, it is little wonder that the ugly allegations against Dave have surfaced. How could David Kopel produce so much quality and impactful work over the last two months if he weren't using performance enhancing drugs?
Let me make clear, it is not the policy of the Independence Institute, nor has it ever been, to condone juicing by any of its scholars.
Dave has been steadfast in his denials of using steroids, yet, as you have read in the papers, he refuses to submit to the same urine analysis that his other team members do. Curiously, for some reason, our investigative reporter Todd Shepherd submits urine samples hourly.
As for the observations that David's cranium has expanded to the point of being bulbous, Dave insists that it is an illusion caused by his receding hairline.
All I can say for certain is that I stand by my friend and colleague. If he says his outstanding and wildly effective work has not been aided by performance enhancing drugs, then I for one believe him. And to him I say – Dave we love you whether you have or haven't, and there is no shame to admit weakness.
There will never be an asterisk by your name in my book.